I took a couple shots last week and continued to hit them out of the park. For instance, I was hell bent on starting David Montgomery after a week in where he saw two carries. Your reward if you listened to me? 135 yards, a touchdown and 24 fantasy points. I told you to bench Kirk Cousins, even though it was a juicy matchup and a revenge game. That reward for listening would have spared you a zero touchdown performance and 11 point output. If only our infamous James listened to what I said, he may have actually had a chance in our fantasy matchup.... Enough of the past though, Week 9, LETS GO!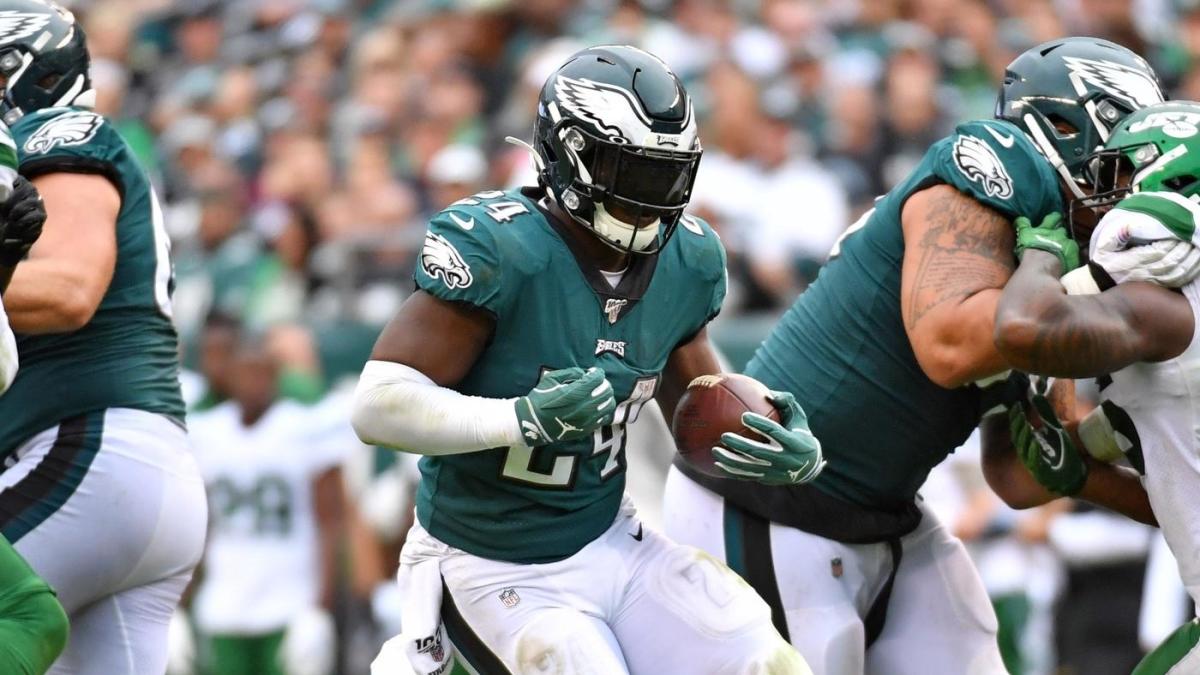 Photo courtesy of philadelphiainquirer.com
San Francisco 49ers @ Arizona Cardinals (Happy Halloween!)
Get 'Em In

Emmanuel Sanders - Sanders wasted no time jumping into the Niners offense last week, snagging four balls for a pedestrian 25 yards, but he did find the endzone. A few more days to acclimate to the Niners playbook and a poor Cardinals secondary makes him a fine option to roll into your lineups, even with the short week. With players like Michael Thomas, Julio Jones, and Cooper Kupp on bye weeks, Sanders should slide in easily as a WR3.
Get 'Em Out

Kenyan Drake - Drake literally just got to Arizona a couple days ago. While you would hope because of the injuries the Cardinals have in their backfield, he would just become the bellcow, there just is not enough time. Drake will have a role, but it will be limited to easy dive plays I am sure, and I do not foresee more than 10 touches in this one. I hope you didn't rush to the waiver wire for Drake.
Houston Texans @ Jacksonville Jaguars
Get 'Em In

DJ Chark - The Texans defense continues to struggle mightily against the pass, ranking dead last in the NFL. Losing JJ Watt for the remainder of the season means it won't be changing for the better anytime soon. Chark has a prime matchup to have another strong game. With what may be his final start with Minshew as his quarterback, look for Chark to cash out with a large payday.
Get 'Em Out

Carlos Hyde - Hyde is the clear lead back in Houston, but it is not translating to fantasy points. With 11 combined points the last two weeks, he is now fully touchdown dependent. On top of that he has zero role in the passing game, making him a brutal play in PPR leagues. Hyde is nothing more than a desperation Flex at this point.
Chicago Bears @ Philadelphia Eagles
Get 'Em In

Jordan Howard - Here's that term again, Revenge Game baby! Howard continues to post decent numbers, as last week he ran for almost 100 yards and again found the endzone. With the passing game still fluttering, and Khalil Mack salivating for a piece of Wentz, Howard should be given the keys to the car this week. Miles Sanders should play, but he did hurt his shoulder last week against Buffalo. Howard should get the bulk of the work and have some extra motivation to burn the team that traded him.
Get 'Em Out

David Montgomery - So last week I flashed the size of the old potato sack and told you to believe in a guy who just posted two fantasy points. BIIIG potato sack to the tune of 24 fantasy points. This week, though, send him to the pine. Aside from Ezekiel Elliot bullying them over 2 weeks ago, the Eagles have remained great against the run and you just know Philadelphia is going to force this game into Mitchell Trubisky's hands. Sometimes you need to know when to walk away.
Indianapolis Colts @ Pittsburgh Steelers
Get 'Em In

Marlon Mack - There is nothing flashy here. Mack is a lead back with strong volume and goal line touches every week. As long as you have space in your lineup, he warrants a start as a borderline RB2 every week. The Steelers run defense is middle of the road, giving him a solid shot at 75 yards and a score. Again, nothing flashy, but enough to get the job done.
Get 'Em Out

Jacoby Brissett - Brisset is coming off clunkers in two out of the last three games, with the exception being against the league worst Texans defense. The Steelers pass defense has slowly improved every single week and has become quite stingy with Minkah Fitzpatrick now roaming the secondary back there. Brissett is going to have to play "safe" football this week, and I think you will see a performance far closer to those he had against Kansas City and Denver than you will the Texans game.
New York Jets @ Miami Dolphins
Get 'Em In

Robbie Anderson - Yes, you can start Sam Darnold this week if you're desperate. And yes, Le'Veon Bell and Jamison Crowder are strong plays too. It's Miami kids. But let's go with someone who has been off the fantasy map the majority of the year, and that's Robbie Anderson. Beside his long touchdown against Dallas a few weeks ago, Anderson has been irrelevant. Now, with a trip to Miami and Xavien Howard not even being there anymore, Anderson could have one of his 150 yard, two touchdown type of games. Play Anderson this week with confidence.
Get 'Em Out

Jets Defense - You see Miami on the schedule, you tend to try and get cute and stream a defense. The problem is this week, the Jets defense is terrible too. Fitzpatrick should be able to move the ball against the Jets, and they are without top linebacker CJ Mosely. Don't get cute this week.
Minnesota Vikings @ Kansas City Chiefs
Get 'Em In

Dalvin Cook - Any chance you guys saw what Aaron Jones and Jamaal Williams did against this Chiefs defense last week? Well yeah, Dalvin Cook is far better than them. Cook should feast against the league's 30th ranked rush defense.
Get 'Em Out

Stefon Diggs - Diggs has straight FEASTED for three weeks now. He has posted outputs of 42, 21, and 20 through those three games. I expect that to temper back this weekend. Thielen should be back to playing, and while you can throw against Kansas City, they get after the quarterback. So I do think the game plan will be Dalvin Cook and, when they do throw it, Thielen. Diggs is the big play guy downfield, and there may not be time for those plays to develop this week. Proceed with caution.
Tennessee Titans @ Carolina Panthers
Get 'Em In

Jonnu Smith - If Delanie Walker misses another week, I like Smith as a plug and play. The tight end position continues to be a barren desert for fantasy points, so the risk is small. Tannehill clearly likes throwing to him with back-to-back strong showings. You could do worse that Smith.
Get 'Em Out

Kyle Allen - Allen had himself a little hot streak going, guiding the Panthers to a 4-0 record with him as starting quarterback. That train derailed hard last week though against the undefeated Niners. The Titans defense is average, so you can expect an average performance. Something like 215 yards and maybe a touchdown and a pick or two. No thanks.
Washington Redskins @ Buffalo Bills
Get 'Em In

John Brown - Another week of football. Another week of John Brown getting at least 50 receiving yards. Still, it's him and Michael Thomas as the only receivers to reach that number in every game this year. Expect that to continue against a bad Redskins team. A 50 yard floor makes Brown a WR2 until further notice.
Get 'Em Out

Terry McLaurin- Tough defense. Top corner Tre'Davious White following him all day. An inexperienced Dwayne Haskins chucking the ball. This one doesn't add up. Get McLaurin to the pine, folks.

Tampa Bay Buccaneers @ Seattle Seahawks
Get 'Em In

DK Metcalf - I wrote a few weeks ago how Metcalf was already a red zone target hog, and that should take on even more life now that tight end Will Dissly has gone out for the year. And Metcalf actually leads the league in end zone targets. I nailed that one right on the head. Metcalf continues to be a monster when Seattle gets inside the 20, evident by his two red zone touchdowns last week. He should continue his strong output this week with the Buccaneers heading to the Great Northwest.

Get 'Em Out

Jameis Winston - You know my feelings on Jameis. I don't need to explain myself anymore.
Detroit Lions @ Oakland Raiders
Get 'Em In

Matt Stafford - Stafford was a must start last week and continues to be one this week against a beaten and battered Raiders secondary. With little to no run game behind him, Stafford should have his full arsenal of pass catchers running free through all the vacant space left by that Raiders defense. Stafford is a top play again.
Get 'Em Out

Ty Johnson - The moment Kerryon Johnson was placed on the IR, fantasy players raced to the waiver wire to pick up next in line back, Ty Johnson. Against a putrid run defense that the Giants possessed, your reward if you won the waiver claim was seven carries for 25 yards. Good job. This is a clear committee with JD McKissic, and this game will be controlled through the air and Stafford chucking the ball all over the field. Don't play Johnson just because he is the "starter."
Green Bay Packers @ Los Angeles Chargers
Get 'Em In

Aaron Jones/Jamaal Williams - Whichever piece of the duo you own, feel confident rolling them out this weekend against LA. The Chargers injury plagued season rolls on and they are coming off a week where David Montgomery gashed them for 135 yards on the ground, and that was without a threat of a passing attack. Imagine the possibilities with Rodgers at the helm. Aaron Jones and a clear cut RB1 with Williams an excellent Flex.
Get 'Em Out

Jimmy Graham - Graham remains touchdown dependent, and when he does not score, it's a tough scene. In games where Graham has been unable to get in the endzone, he has produced fantasy outputs of 0, 0, 7, 3, and 5. With tight ends like Darren Fells and Jonnu Smith more than likely on your waiver wire, there is zero reason to play Graham against a Chargers defense that has been surprisingly tough on tight ends.
Cleveland Browns @ Denver Broncos
Get 'Em In

Cleveland Browns Defense - On the surface you may think I am crazy, and I am a little, but this is not just one week fill in. Here is the list of the Browns upcoming opponents. It starts this week with the Broncos and Brandon Allen (who?), then Buffalo, then the Mason Rudolph lead Steelers, the Dolphins, the Steelers again, the Bengals with God knows who at quarterback, then the Cardinals. With their ability to always get to the quarterback with Myles Garret and their corners healthy, all of a sudden the Browns defense looks real juicy for fantasy.

Get 'Em Out

Courtland Sutton - This kills me to say this, as Sutton was finally starting to breakout a bit. But with an even further downgrade at quarterback and defenses being able to solely focus on him with Emmanuel Sanders out of town, Sutton could be in line to post some duds. Stay clear until you find out if he and Allen have any sort of connection.
New England Patriots @ Baltimore Ravens
Get 'Em In

Julian Edelman - The Ravens corners are not exactly suited to cover Edelman's style as they are more physical. With Jimmy Smith back and Marcus Peters now in town, Edelman should see a lot of Marlon Humphrey. Humphrey is also physical, and Edelman should find success underneath all night and keep the chains moving. I think Edelman could be in for a double digit reception night.
Get 'Em Out

Sony Michel - When Burkhead plays it just seems Michel does not do much. With Burkhead appearing to be good to go again, and Michel averaging a measly 3.3 yards a carry, I would stay away.
Dallas Cowboys @ New York Giants
Get 'Em In

Dak Prescott - Prescott torched the Giants back in Week 1 and there is no reason why he should not again. The Cowboys are historically bad under Jason Garrett coming out of bye weeks, but Prescott has shows even with slow starts to games, he can still finish real strong with a large fantasy output. I don't expect Dak to throw for 405 yards and four touchdowns like he did in that Week 1 matchup, but close to 300 and a couple touchdowns is well within reason.
Get 'Em Out

Daniel Jones - The Cowboys defense has been quite putrid against the run, and the Giants have a little running back named Saquon Barkley. Maybe you've heard of him. Barkley will be the focal point of their offense, and Jones should register somewhere closer to his Week 4-7 matchups where he averaged only 13 points and not his Week 3 and 8 matchups where he averaged 37 and a half.
Follow Ryan on Twitter and ask your fantasy questions @BesseBoy.
Follow Boston Sports Syndicate on Twitter @BostonSportsSYN.
Follow us on Facebook and Instagram at Boston Sports Syndicate, and join our Facebook page to receive notification of new articles, podcasts, and live Facebook broadcasts.
Agree with us? Disagree? Please post your comments below.