As long as your league is run be a commissioner with any level of competency, you only have two regular season games left before your fantasy playoffs. The room for error is now minimal to none as we juggle with the last of the bye weeks, numerous injuries, and desperate fantasy teams throughout your league. Come out on top by following this week's Get 'Em In, Get 'Em Out.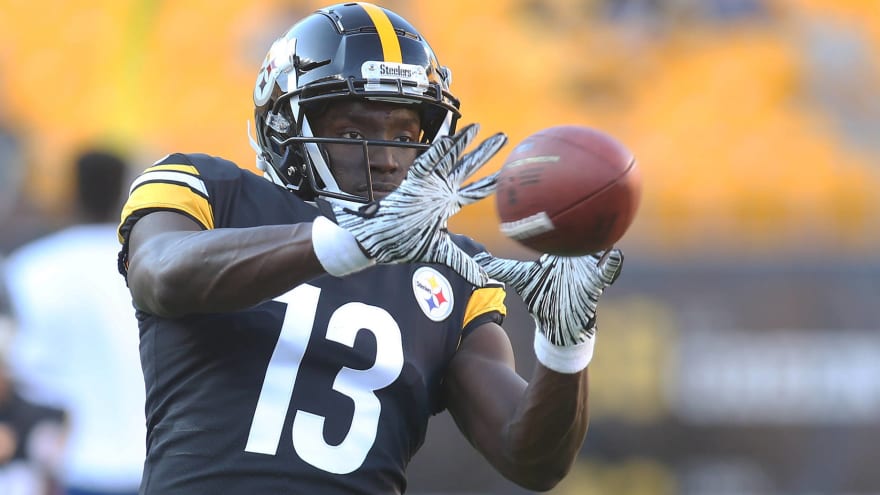 Photo courtesy of yardbarkercom
Indianapolis Colts @ Houston Texans
Get 'Em In

Jacoby Brissett - Brissett's best game to date came back in Week 7 against these same Texans. In that game Brissett threw for 326 yards and four scores. While I do not foresee him being that successful again, he should have ample opportunities to throw. Marlon Mack is out with a broken hand and the Texans secondary is yet to slow anyone through the air. TY Hilton appears that he will give it a go, only further boosting Brissett.
Get 'Em Out

Darren Fells - Fells caught fire for three out of four games from Week 5 to Week 8. Then, in the last two games he has totaled six targets and only two catches. He is heavily reliant on touchdowns to have fantasy relevance. The Colts secondary is beat up, but that means more success for Hopkins and Stills, not necessarily Fells. Fells is simply a checkdown.
Denver Broncos @ Buffalo Bills
Get 'Em In

Phillip Lindsay - If there is one thing you can do against the Bills defense, it's run. As the season has gone on, Lindsay has shared touches quite evenly with Royce Freeman, but Lindsay has been the better back. Last week the Broncos gave Lindsay his second largest workload of the season with 16 carries and averaged over four yards a carry. In a game that is looking to me as a 9-6 field goal fest, Lindsay should be one of the rare offensive bright spots of the day.
Get 'Em Out

Josh Allen - I have ridden Josh Allen as my fantasy quarterback far more this year than I ever could have imagined. Last week he culminated that ride by winning AFC Offensive Player of the Week, as he threw for 256 yards and three scores and rushed for 56 yards and added a score there too. That was against Miami. This is against with a top 5 ranked pass defense. Again, 9-6 field goal fest.
New York Giants @ Chicago Bears
Get 'Em In

Taylor Gabriel - There is not a lot to love here from a fantasy perspective on either side, but Taylor Gabriel could make for an interesting play. He has been much more involved the last two weeks, posting double digit fantasy outputs. Last week against the Rams he saw a whopping 14 targets, and while you shouldn't expect to see that many again, 6-10 targets is quite reasonable. And with the amount of space there is in the Giants secondary, he could take one of those targets to the house. Gabriel makes for a good Flex play this week.
Get 'Em Out

Tarik Cohen - Cohen has scored in back to back weeks, but if you take those scores out, his fantasy output is nothing short of miserable. He has almost no role in the running game, and his usage remains drastically down in the passing game. In a game that should remain close as both teams are below average, Chicago should not have to play catch-up and will be able to continue to run the ball. That running takes place with David Montgomery though, not Cohen.
Pittsburgh Steelers @ Cincinnati Bengals
Get 'Em In

James Washington - This is strictly a volume play. Washington had a lot of hype coming into the season, but like the entire Steelers' team, that hype has fallen on hard times. This week however, against the winless Bengals, the Steelers appear to be having to play without JuJu Smith-Schuster or Diontae Johnson; both in concussion protocol. That makes Washington a high-ceiling WR3 based on volume.
Get 'Em Out

Tyler Boyd - Going back through the Bengal's season, you would be tempted to say there has been nothing remotely good to come out of it. However, digging deeper, Tyler Boyd was very quietly having a phenomenal year early on. His season, like the Bengals, has trended downwards though since then. Last week he had a cookie-cutter matchup on paper with the Raiders, and in return only netted one catch for no yards. Now the Steelers ever improving pass defense comes to town and Ryan Finley is still under center for the Bengals. Boyd is trending towards being a massive dud to end the year.
Miami Dolphins @ Cleveland Browns
Get 'Em In

Jarvis Landry - I like the idea of a revenge game here. Last week the Dolphins were shredded by a not so great Bills offense, specifically John Brown. Landry's makeup is a lot like Brown's, with his quickness out of the slot or on the outside for a deep ball. The fact that it is Landry's old team just helps fuel this pick more. I like Landry as a WR2 this week.
Get 'Em Out

David Njoku- David Njoku has not seen the field since way back in Week 2. He was activated from the IR and cleared for full contact this week, and is slated to return Sunday. A matchup against the Dolphins sure sounds like a great one to get your feet wet, but I would be far more comfortable seeing him get a game or two under his belt before deploying him. Tight ends in his absence have only caught a total of 21 balls. Whether that's a talent issue, or the Browns offense just does not putting importance on the position, we don't know. Hence the give it a game or two.

Tampa Bay Buccaneers @ Atlanta Falcons
Get 'Em In

Matt Ryan - The Falcons have finally arrived for the 2019 season. Unfortunately it was 10 weeks too late. Falcons are now 2-0 since their Week 9 bye, shutting down New Orleans and beating up on Carolina. Both those wins shockingly came on the strength of the defense and not the offense. Well you know what fixes offensive woes? The Tampa Bay Buccaneers defense. That's what.
Get 'Em Out

Brian Hill - Per the usual, a starting running back went down and everyone ran to the waiver wire to get his backup. And per the usual, that backup fizzled out. Hill will once again be the starter this week, but goes up against a top 5 run defense in Tampa Bay. There is not much Tampa does right, but stopping the run is one of them.
Carolina Panthers @ New Orleans Saints
Get 'Em In

Greg Olsen - The Tampa Bay Buccaneers have not been able to get any of their tight ends going all year long. Then last week against the Saints, Cameron Brate exploded for 10 catches for 73 yards. Sure, one week is a small sample size, but if you couple that with the fact in the last two weeks Olsen has 15 targets for 155 yards, it is appealing. He should see plenty of targets again this week, and hopefully one of them turns into a catch for his first touchdown since Week 3.

Get 'Em Out

DJ Moore - Over the last three weeks DJ Moore has been a fantasy gem. All without scoring a touchdown. He has posted days of 17 points, 21, and 17. All those points solely on catches and yardage. He is the clear number one option in the Panthers passing attack, but expectations should be tempered this week at New Orleans. Moore will more than likely get a healthy dose of Marshon Lattimore and a Saints pass defense that only allows 225 yards per game.
Seattle Seahawks @ Philadelphia Eagles
Get 'Em In

Zach Ertz - Ertz was being written off as suddenly he was cast in the shadow of Dallas Goedert for the majority of the season. Then the last two games happened. Ertz has returned to TE1 relevance with two straight games of nine catches and over 90 yards. Wentz's receivers are either injured, or incredibly unreliable, forcing him to look Ertz's way more often than not. Seattle's defense has been very beatable through the air this season, and I like Ertz to keep the good times rolling.
Get 'Em Out

Miles Sanders - With Jordan Howard out last week, Sanders was in line for big role and an even bigger output. Unfortunately, all Sanders could muster was five fantasy points. Howard looks like he is about to miss his second straight game, but newly signed Jay Ajayi could cut even further into Sanders workload. It's a backfield you best avoid to be safe.

Detroit Lions @ Washington Redskins
Get 'Em In

Kenny Golladay - I have benched Kenny Golladay the last two weeks as he has been without Matt Stafford to chuck him the ball. Those benchings have paid off as he has only been able to pull in four catches with Jeff Driskel as his quarterback. There is such a thing as getting too cute though. I benched him because of the opponent; The Bears and Cowboys. This week he gets the middling Washington Redskins, who appeared to have quit on the season. Golladay is worthy to be back in your lineups this week, and hopefully the third time is the charm with Driskel to get some chemistry going.

Get 'Em Out

Adrian Peterson - The Lions run defense is at the bottom of the league, but I truly feel Washington is about to let Derrius Guice run loose. They eased him in a week ago with seven carries for 24 yards, but took a screen pass for 45 yards for a score. The Redskins have no reason whatsoever not to see what they have in Guice. He is worthy of a flex play with the hope Washington lets him run wild against a bad Lions team.

Oakland Raiders @ New York Jets
Get 'Em In

Derek Carr - Since the Raiders bye week back in Week 6, Derek Carr has scored at least 20 fantasy points in four of five games. The Jets allow opposing quarterbacks to score an average of 22.4 fantasy points against them. Those two tidbits add up to a 20 point day at a minimum if you ask me.
Josh Jacobs - You may be a little surprised to see this name here, but these stats may surprise you also. The Jets run defense is a top 15 unit, aka, top half of the league. In the last three weeks the most yards on the ground they surrendered to an opponent, was 54. They have not allowed a 100 yard game on the ground since Week 8, and have only allowed three 100 yard games all year. This run defense is much better than you think. Jacobs is also nursing a shoulder injury. Now listen, if Jacobs plays, you play him, but don't think because you see the Jets on the schedule that he is going to go for 140 yards and two scores. You have been warned.
Jacksonville Jaguars @ Tennessee Titans
Get 'Em In

Derrick Henry - Fresh legs for the big man. The Titans are coming off their bye, and before the bye Henry posted fantasy days of 24 and 32 points. Yes, back in Week 3 Henry had a bit of a clunker against these same Jaguars, but that was on a short week (Thursday Night Football) and before Ryan Tannehill had opened up the offense. Now there is a sentence I never thought I would write...

Get 'Em Out

Nick Foles - In his first game action since he threw only eight passes back in Week 1, Foles managed his way to a 22 point day. Looking beyond just the fantasy points, though, it was an uphill battle to get there as he attempted almost 50 throws and did not even crack 300 passing yards. Things shouldn't get much easier this week against a stingy Titans defense. As we have seen a ton of times before, a matchup of these two teams is typically decided on the ground. Foles would be a very low end streamer for me this week.
Dallas Cowboys @ New England Patriots
Get 'Em In

Julian Edelman - The Cowboys have had a TON of tackling issues this season. As a Cowboys fan, I see them week in and week out and it has become very problematic. I can easily see a shifty guy like Edelman causing their defense fits. Beyond that, it appears Sanu and Dorsett may be either held out of this game or less than 100 percent, leaving Edelman as Brady's option 1, 2 and 3.
Get 'Em Out

Dak Prescott - Prescott has been nothing short of on fire and has snuck his way into the MVP discussion in some circles. And it kills me to say this, but I think that hot streak ends Sunday. Dallas is yet to beat a team with a winning record, and teams just don't go into Gillette, in November, and win. I think Bill draws up some defensive schemes to confuse Dak and he has a very quiet day. I personally think the Patriots will trounce the Cowboys, but maybe that is 25 years of negativity boiling over in my blood. Here's to being wrong...
Green Bay Packers @ San Fransisco 49ers
Get 'Em In

Deebo Samuel -

As I write this and it gets published, the Thursday practice report for the 49ers is not out yet. Regardless, it's the Friday report that carries the most weight. As of right now Deebo Samuel has a shoulder injury and sat out the Wednesday practice. If Deebo returns to practice and is a green light for Sunday night, he is a must start. Especially with Kittle and Emmanuel Sanders probably both sidelined. Deebo is coming off back to back 100 yard efforts and you need to continue to ride the hot hand.
Get 'Em Out

Jimmy Graham -

I feel like I have listed Graham as a Get 'Em Out a million times this year. Well, make it a million and one. San Francisco has a strong defense overall, but especially against opposing tight ends as only two have scored touchdowns all year against them. I do not expect Graham to be the third.
Baltimore Ravens @ Los Angeles Rams
Get 'Em In

Mark Andrews - Since the Rams acquired Jalen Ramsey, they have been much better at defending the pass, to wide receivers specifically. They are also quite strong against the run as they are a top 10 unit. What falls just out of the top 10 is tight ends. While not glaring, it is probably the spot where you can beat them. If Lamar is not running the ball, he will probably be looking to get rid of it fast with Aaron Donald charging at him. Andrews should be that beneficiary. Continue to play Andrews.
Get 'Em Out

Los Angeles Rams Defense - The Rams defense have been a good play of late with opponents of the Bengals, Steelers, and Bears. Now the defense goes to benchable, but maybe even droppable. The Rams finish the season with Baltimore Monday, then Arizona, Seattle, Dallas, San Fran, and Arizona again. The weakest of those is clearly Arizona, but one of those matchups is Week 17 when your league should be over. That leaves the earlier Arizona matchup as the weakest, but Kyler Murray can still put up points. The Rams defense can be let go if you ask me.
Follow Ryan on Twitter and ask your fantasy questions @BesseBoy.
Follow Boston Sports Syndicate on Twitter @BostonSportsSYN.
Follow us on Facebook and Instagram at Boston Sports Syndicate, and join our Facebook page to receive notification of new articles, podcasts, and live Facebook broadcasts.
Agree with us? Disagree? Please post your comments below.