If you are reading this article, congratulations. You have made it to the fantasy playoffs. If you're lucky enough like this writer, maybe you even earned a first round bye. If you didn't, no worries. It's all about just getting in. Now have a read and you will find yourself back here next week planning your Semi-finals matchup.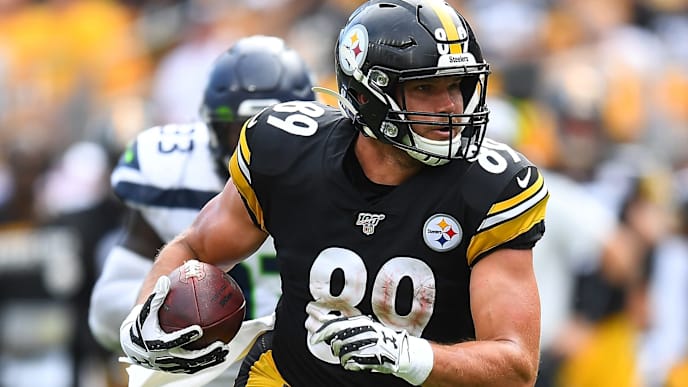 Photo courtesy of nfl.com
Dallas Cowboys @ Chicago Bears
Get 'Em In

Ezekiel Elliott - I honestly don't like anything from a fantasy perspective for this game. You have yourself two struggling offenses on teams barely staying afloat in the playoff race. Zeke has yet to have one of his signature games this year, and while I still don't think it's coming Thursday night, he looked real good running on Thanksgiving. He was breaking tackles and had an explosiveness to him. Against a tough Bears D that is chalking up to be a grind it out game, Zeke should see 20+ carries.

Get 'Em Out

Allen Robinson - Byron Jones has a done a damn good job of shutting opposing wide receivers out this year. For the most part teams just avoid the side of the field he has been covering this season. Taylor Gabriel has already been ruled out for Chicago so Robinson should have Jones undivided attention. Should be a quiet night for Robinson.
Carolina Panthers @ Atlanta Falcons
Get 'Em In

Devonte Freeman - We are down to the final four weeks of the NFL season and Devonte Freeman is yet to reach the endzone on the ground. There is a good chance that massive drought finally ends this week. Carolina has a bottom 5 ranked run defense and is fresh off another gashing, this one be Derrius Guice. Someone who had not rushed for over 34 yards in the three games he had played in prior to last week's game. Given the matchup and the ceiling, Freeman can be considered an RB2 this week.
Get 'Em Out

Matt Ryan - Before Thanksgiving night, Ryan had posted fantasy outputs of 19, 18, and then 8. On Thanksgiving he posted 23, but took 50 passes to get there. In his first matchup against Carolina was the second aforementioned 18 point output. Quietly Carolina has put together a top 10 pass defense, a big difference from their putrid run defense. Given that, and Ryan's inconsistencies, I would prefer to get him out this week.
Indianapolis Colts @ Tampa Bay Buccaneers
Get 'Em In

Zach Pascal - Pascal has been difficult to trust, but the matchup is too good to ignore. The Buccaneers are ranked dead last against the pass, so even though Pascal has had clunkers of four points, three points. and even zero points, he has also had games like last week where he posted 17 points. Hilton is still out and Tampa's stout run defense should force them to the air. Take the risk with Pascal this week and, on paper, he looks like a rock solid WR2.
Get 'Em Out

Marlon Mack/Jonathan Williams/Jordan Wilkins/Nyheim Hines - Do you see the amount of names I just listed? What a cluster the Colts backfield is. Williams has been decent in Mack's absence, but Mack has returned to practice in a limited fashion to muddy things up even more. Couple that with the Tampa top 3 run defense, and it is a backfield to avoid.
Miami Dolphins @ New York Jets
Get 'Em In

Ryan Fitzpatrick - Fitzmagic is back and may be here to stay a few weeks. The Jets defense just let the Bengals win for the first time this season. Fitzty is coming off a 365 yard and three touchdown game. He has now had fantasy days of 28 points and 33 points back to back. When he gets on these rolls they typically last about a month. Fitz will remain a strong play this week, and the next two weeks as his schedule remains soft with the Giants and the Bengals. Ryan Fitzpatrick may very well be your ticket to a Fantasy Championship.
Get 'Em Out

Mark Gesicki - Gesicki had almost no fantasy relevance Weeks 1-8. Since then he has had three double digit outputs, capped with an 18 point day last Sunday against Philadelphia. As for the Jets pass defense, they get burned on the outside by receivers, but much like their run defense, the Jets have quietly been very good at bottling up tight ends. Matter of fact, they are Top 5 against the position. With the hot streak DeVante Parker is on, the offense should go through him once again. Shy away from Gesicki.
San Francisco 49ers @ New Orleans Saints
Get 'Em In

Emmanuel Sanders - Sanders has gotten real quiet over the last month. Some of that can definitely be chalked up to him being less than 100 percent healthy, then a tough rainy road matchup last week against Baltimore. This week they head into the Mercedes-Benz Dome where you know they will need to take to the air to match Brees. The Saints secondary has slowly gotten worse as the season has rolled on and are now a bottom 10 unit. Sanders should be good to return to WR2 territory.
Get 'Em Out

Jared Cook - Jared Cook has had four straight games of double digit fantasy points. The Niners however are the toughest team in the entire NFL against the tight end position. I feel that renders Cook a desperation, touchdown dependent play Sunday.
Detroit Lions @ Minnesota Vikings
Get 'Em In

Kirk Cousins - The Detroit Lions just let Mitchell Trubisky look like an All-Pro quarterback. What else do you need to know? That Cousins already carved up Detroit earlier in the season for 338 yards and four touchdowns. Or that Dalvin Cook is banged up so they will probably take to the air? All the signs point to Cousins being an all systems go quarterback in Week 14.
Get 'Em Out

Bo Scarbrough - Bo Scarbrough has carved out a nice little role up in Motown and has been a strong volume play the last three weeks. But not many teams have run on Minnesota. Seattle did on Monday night, but by no means is Detroit in Seattle's league. This game may very well get away from Detroit fast, leaving Scarbrough with limited action.
Denver Broncos @ Houston Texans
Get 'Em In

Courtland Sutton - Sutton very well may be the next superstar wide receiver in this league. The only thing holding him back from taking that leap is his quarterback. If he can ever get consistently good quarterback play, he will sky rocket. Even with the poor play he has gotten from Flacco, Allen, and now Lock, he is still putting up strong stat lines almost every single week. I like him for another big output Sunday against a weak Texans secondary, regardless of who is throwing him passes.

Get 'Em Out

Will Fuller - Fuller has literally had two good fantasy weeks all season long. The rest has been him either injured or non existent on the stat sheet. Against the top 5 Denver pass defense, I don't see him having his third good week come Sunday.
Baltimore Ravens @ Buffalo Bills
Get 'Em In

Mark Ingram - I don't want to spoil the surprise for you, but the Ravens are a running team. The Bills defense is beatable on the ground. Ingram is an RB1 come Sunday.
Get 'Em Out

Marquis Brown - Hollywood Brown is the Ravens de-facto number one wide receiver which means he will have Tre'Davious White covering him all day. The Ravens will focus on their tight ends and running game this week. Keep Brown on the bench to avoid a doughnut output.
Cincinnati Bengals @ Cleveland Browns
Get 'Em In

Kareem Hunt - Even with how successful Nick Chubb has been this year, Cleveland has made it clear to give Hunt a role since he was activated. In the four games since Hunt's suspension ended, he has posted double digit fantasy outputs. Mayfield is nursing an injury to his throwing hand which means Cleveland may rely on their running game even more than usual. That keeps Hunt with a Flex play floor, and an RB2 ceiling.

Get 'Em Out

Baker Mayfield - Get 'Em Out for aforementioned reasons above.
Washington Redskins @ Green Bay Packers
Get 'Em In

Derrius Guice - I am not sure what has more holes. The Green Bay Cheeseheads or their run defense. I'm hysterical, I know. But seriously, the Packers run defense is in the bottom of the league. Yes this game could very well get away from Washington, but that does not matter. Washington has to use these last few games to see what they truly have in Guice and he has an excellent opportunity this week to build off of a monster performance a week ago.
Terry McLaurin - Dwayne Haskins has killed Terry McLaurin. With Haskins as his quarterback, McLaurin is only averaging about three catches a game. Until we actually see that change, he is impossible to trust.
Los Angeles Chargers @ Jacksonville Jaguars
Get 'Em In

Melvin Gordon - Gordon failed to find the endzone last week in Denver, but he did run the ball 20 times. The volume for Gordon is back to that of a bell cow back. Also, I mentioned last week how Jacksonville has become quite putrid at defending the run. Gordon's volume will once again be there and hopefully a touchdown or two will be also.

Get 'Em Out

Gardnew Minshew II - Minshew is back as starting quarterback, but don't expect the mania to come with him. The Chargers just got safeties Derwin James and Adrian Phillips off of IR to bolster their strong secondary even more. The Chargers get beat on the ground, and the Jaguars would be wise to give the ball to Fournette and not let Minshew put the ball up 30+ times.
Pittsburgh Steelers @ Arizona Cardinals
Get 'Em In

Vance McDonald - If a Vance McDonald owner gave up on waiting for McDonald to be fantasy relevant again, jump on him now. This week he faces the Cardinals who are beyond abysmal when it comes to covering tight ends. Every single week they get gashed by tight ends and have let up a league leading 13 touchdowns to the position. If there was ever a week to get him back in your lineup, it's this week. He also makes for a cheap DFS play.
Get 'Em Out

Devlin Hodges - This is a matter of not trying to get too cute. Yes, the Cardinals allow the most yards to quarterbacks on the year, but Hodges has showed very little in the small sample size we've seen from him. Hodges floor and ceiling is probably around 200 yards and a score regardless of opponent.
Tennessee Titans @ Oakland Raiders
Get 'Em In

Ryan Tannehill -

Tannehill had his first "clunker" of the season last week, if you want to call it that, as he still scored two touchdowns. That was, however, the first time he failed to reach 20 fantasy points in a start this year. 20 should be attainable again this week against the porous Raiders secondary. Tannehill has a chance to finish this season on a really strong note as all four of his remaining opponents are bottom 10 against the pass.
Kansas City Chiefs @ New England Patriots
Get 'Em In

Julien Edelman - Edelman has not seen less than 10 targets since all the way back in Week 5. He is a target monster and continues to be the only reliable receiver Brady has. Keep rolling Edelman out as the PPR god he is.

Get 'Em Out

Patrick Mahomes - You're not going to sit Patrick Mahomes in the first week of the fantasy playoffs. Are you? Probably not. But this is about a bad a time for Mahomes to face the Patriots as there can be for fantasy owners. Play him, but be worried. Be very worried.

Seattle Seahawks @ Los Angeles Rams
Get 'Em In

Chris Carson/Rashaad Penny - The Rams defense is decent against the run EXCEPT against run first teams. The Rams struggled mightily against the 49ers and Ravens, and also against Seattle in their first matchup of the season. Pete Carroll loves to use both of his backs and both will continue to have strong roles. I like Carson as an RB2 and Penny as a Flex.
Get 'Em Out

Brandin Cooks - Cooks is worth a drop unless you're in dynasty league. That is how far he has dropped this season.
New York Giants @ Philadelphia Eagles
Get 'Em In

Jake Elliot - A kicker! That's right, kickers are people too. Did you know Jake Elliot missed his first kick of the entire season last week? And it was no gimme at 49 yards. Elliot has been arguably the best kicker in the game behind Justin Tucker in Baltimore this year. This week? The Giants? Plenty of points? Yup. Elliot is a great play for a kicker.
Get 'Em Out

Eli Manning - Don't even think about it...
-------
Follow Ryan on Twitter and ask your fantasy questions @BesseBoy.
Follow Boston Sports Syndicate on Twitter @BostonSportsSYN.
Follow us on Facebook and Instagram at Boston Sports Syndicate, and join our Facebook page to receive notification of new articles, podcasts, and live Facebook broadcasts.
Agree with us? Disagree? Please post your comments below.