Week 15! Let's goooo! Fantasy Semi-Finals! Let's goooo! Get 'Em In, Get 'Em Out! Let's goooo!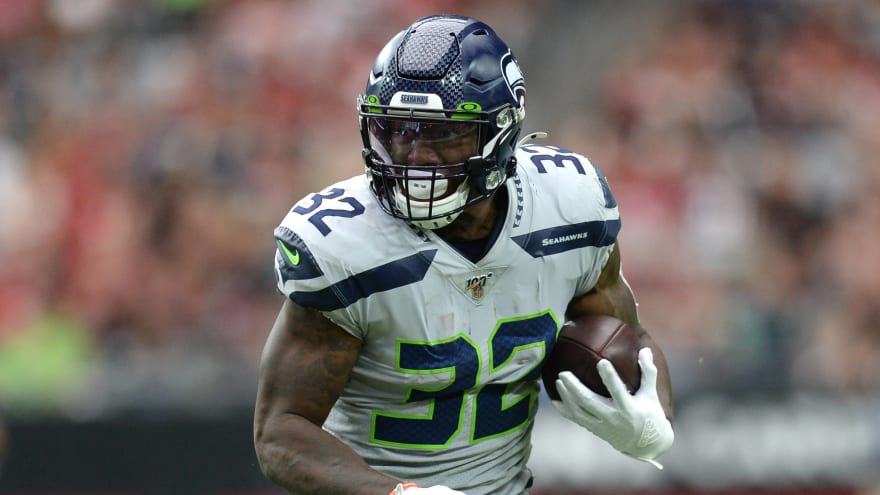 Photo courtesy of gwinnettdailypost.com
New York Jets
@ Baltimore Ravens
Get 'Em In

Marquise Brown - Hollywood Brown is coming off two really quiet weeks where he's totaled only four catches for, ready for this, negative one yard. Yikes! Week 15 brings a rebirth opportunity with the Jets and their bottom 10 pass defense. Mark Andrews is banged up and while he should play, at less than 100 percent, Jackson may look to the outside where they know they can take advantage of the Jets. Treat Brown as a WR3 in your semi-finals.

Get 'Em Out

Robbie Anderson - For those of you that somehow held onto Robbie Anderson all season, you've reaped the benefits the last three weeks. Anderson has been in WR1 territory through the last three games as he has compiled 18 catches for 303 yards and two scores. All those stats came against porous defenses though in the Raiders, Bengals, and Dolphins. Now he is in Baltimore, on a short week, followed by the Steelers and the Bills (if your league goes to Week 17). Anderson is droppable to end the year.
New England Patriots @ Cincinnati Bengals
Get 'Em In

New England Patriots Defense - The Patriots offense is going to get on track this week. Trust me. But you just never know who the true beneficiary is going to be. It could be Edelman, it could be N'Keal Harry. Hell, it could be Brandon Bolden. But the one constant is their defense. The Bengals have been very giving this season, and expect the Patriots to pounce on them all game long. New England may be the best defense for fantasy this week.
Get 'Em Out

Joe Mixon - Mixon has been really good down the stretch, capping it off with a massive performance a week ago at Cleveland that saw him rush for over 100 yards for only the second time all season and score on the ground for just the third. That is the Mixon that folks were looking for when drafting him as a RB1 back in August. This week should have him fall back to his midseason troubling ways against the top ranked Patriots defense. Game flow and just the inability to run the ball against them should scare the hell out of you if you're planning on starting Mixon this weekend.
Tampa Bay Buccaneers @ Detroit Lions
Get 'Em In

Kenny Golladay - Golladay has found a way to maintain decent fantasy relevance, even with Jeff Driskel, and now David Blough as his quarterback. On top of that the Lions just placed Marvin Jones on season ending IR, leaving Golladay as the lone wolf. In some situations that can be problematic as opponents would scheme to take him out of the game, but with Tampa and their dead last pass defense, they are not capable of that. Golladay gets his best matchup of the year at the most important time. Hopefully his quarterback doesn't.....blough it....
Get 'Em Out

Bo Scarbrough - Scarbrough has not hit double digit fantasy points since his first start back in Week 11 against Dallas. His output has dropped every week since then even though his volume is there with an average of 18 carries per game. That volume is great when you consider how many running back by committees are going on around the league, but the end results have been less than ideal. Now he faces that Tampa run D that remains a top 3 unit against the run. Leave Scarbrough off to the sides.
Houston Texans @ Tennessee Titans
Get 'Em In

AJ Brown - It almost sounds funny to say, but the obvious, yes I said obvious, but the obvious answer here is Ryan Tannehill. He has been en fuego since he became the Titans starter. However, everywhere you read they are telling you to start him, so you don't need me to tell you. So how about AJ Brown? Brown has taken off as Tannehill has taken off and is fresh off his best game of the year with five catches for 153 yards and two scores. Now he gets a reeling Texans defense, and I like the idea of a hot Titans passing game going against that. This is not a typo; start Brown with WR1 confidence.
Get 'Em Out

Carlos Hyde - Carlos Hyde has three double digit fantasy days all year long. That is just unacceptable for a starting back this late into the season. It is also someone that you just absolutely cannot rely on in the fantasy playoffs given the magnitude of your matchup. Have him Hyde, and go seek another back.
Denver Broncos @ Kansas City Chiefs
Get 'Em In

Phillip Lindsay - It pains me to put his name here as my opponent this week rosters him, but the matchup is too good. The Chiefs have allowed the most scrimmage yards to backs on the entire season. The only thing that could hurt Lindsay's stat line is if the game gets out of hand. But even with that risk he garners RB2 discussion.
Get 'Em Out

Sammy Watkins - Besides his Week 1 explosion, Sammy Watkins has had almost no fantasy relevance whatsoever. The most he's scored since then is 13 and you can get that from almost anyone any given Sunday. Don't expect him to pull a playoff rabbit out of his hat against the stingy Broncos defense Sunday.
Miami Dolphins @ New York Giants
Get 'Em In

Darius Slayton - There was warranted concern about how much usage Slayton would see with both Golden Tate and Sterling Shepard healthy, and Eli Manning put those concerns to bed on Monday night. Coming off three straight games that saw Slayton total 30 targets, he saw another eight from Eli, five of which he caught for 154 yards and two scores. Eli will be under center again this week against those fantasy friendly Miami Dolphins. I would feel comfortable starting any of the Giants receivers Sunday. but especially Slayton.
Get 'Em Out

Ryan Fitzpatrick - Just when you thought you could trust Fitzpatrick, the magic disappears once again as it did a week ago against the Jets. Now the Dolphins stay in the Meadowlands, this time for the Giants, which on paper seems like a great matchup. But last week reminded us all that Fitzpatrick can go sour fast, and I would just hate to rely on him in the fantasy semis. I know, I changed my tune on him from last week, but sometimes you just need a little reminder...
Philadelphia Eagles @ Washington Redskins
Get 'Em In

Zach Ertz/Dallas Goedert - Both tight ends in Philadelphia can be treated as TE1's this week. The Eagles need someone, anyone to catch the ball. Jeffery landed on season ending IR and Agholor still looks to be a no go. Both tight ends should see plenty of targets in this one.

Get 'Em Out

Adrian Peterson - Derrius Guice will finish the year on the IR because of his dry spaghetti he has for tendons in his knee. That leaves AP once again back atop the running back depth chart. Eagles are known for their woeful secondary, but their run defense has remained quite strong. AP is coming off two double digit fantasy days, but even in those he did not rush for 100 yards, and they were against bottom feeder run defenses in Carolina and Green Bay. Shy away from the all time great this week.
Seattle Seahawks @ Carolina Panthers
Get 'Em In

Chris Carson - Rashard Penny's season has come to an end, and for fantasy owners of Chris Carson, you should be able to get immediate payouts. The Panthers cannot stop anyone on the ground this season, and the Seahawks offensive focal point is the run game. Carson to me is overall, out of all players, arguably the top play this weekend.

Get 'Em Out

Jacob Hollister - In Weeks 9 and 10, Hollister burst onto the fantasy radar with a total of 39 points. In his three games since those two games, he has totaled only 21 points. The latter of the performances should continue as the Panthers are the fifth ranked defense when it comes to stopping the tight end position. But do not fret my friends, if you make it to Championship week, Seattle faces the Cardinals, who have made every tight end they have faced this year look like prime Rob Gronkowski.

Chicago Bears @ Green Bay Packers
Get 'Em In

Allen Robinson - Lately it does not seem to matter who Robinson is playing against. He is back to looking like Allen Robinson from Jacksonville, and is the apple of Trubisky's eye. In a huge NFC North showdown he will continue to have a major role. It's the fantasy playoffs and it's time to ride the horses that got you there.

Get 'Em Out

Mitchell Trubisky - Don't get blinded by what Mitch did to the Cowboys last Thursday. The Cowboys have made Josh Allen, Jeff Driskel and others all look like Dan Marino too. This Packers defense's biggest weakness continues to be their run defense and Chicago will be wise to go after it. This should be a game manager game for Mitch.
Minnesota Vikings @ Los Angeles Chargers
Get 'Em In

Dalvin Cook - If Cook was hurt last week, Minnesota sure did not treat him like he was. Cook totaled 20 touches in a game where leading up to it, no one knew how truly healthy he was. After 20 touches he appears good to go, and with back up Alex Mattison now hurt, Cook should be a focal point against a vulnerable Chargers run defense.

Minnesota Vikings Defense - No one is quite sure what has happened to the Vikings defense, but they look like a shell of themselves. The corners, especially Xavier Rhodes, are getting beat at alarming rates and their once hard hitting safeties, well, aren't hitting hard anymore. Even with Rivers' high chances to turn the ball over a few times any given day, this game could end up high scoring, and the Vikings defense will be more than willing to let the Chargers keep up.
Jacksonville Jaguars @ Oakland Raiders
Get 'Em In

Leonard Fournette - Last Sunday was the first game all season that didn't see Fournette hit double digit fantasy points. The Jaguars were being blown out before you could blink though, stopping any idea of running their way to victory. Against the Raiders, there should be no excuse for Fournette not to be back in double digit fantasy points. And how about a bold prediction? For the second time this season, Fournette will amass 30 fantasy points.
Get 'Em Out

Tyrell WIlliams - Tyrell Williams has hit at least 10 fantasy points once in the last six games. That's it. That's the information I am giving you.

Cleveland Browns @ Arizona Cardinals
Get 'Em In

Kareem Hunt -

Nick Chubb is obviously the play here, but Hunt continues to be a very strong flex play. Hunt has scored no less than 11 points in any of the five games he's played in since coming off of suspension. Now, against the three win Cardinals, there is no reason at all to worry about him not reaching that floor again.



Get 'Em Out

David Njoku -

This is a really really tough sit when you consider the Cardinals MO against tight ends. It's been stated repeatedly how horrendous they are at guarding the position. But Njoku had his first game action since Week 2 last week and caught one measly ball for four yards. Now he has had a knee injury crop up. If he even plays, he has bust written all over him.
Los Angeles Rams @ Dallas Cowboys
Get 'Em In

Dak Prescott - Dak has had a rough few weeks in terms of real life football, but he has done a masterful job swooping up some garbage time stats. Garbage time stats count just as much in fantasy. The majority of the Cowboys have quit. Dak has not. This is going to end up with the Rams taking the Cowboys to the woodshed, but allowing Dak to throw, throw, and throw some more. Again, garbage time stats are just as good in fantasy. If Dallas plays like they have, Dak could take to the air 50 times.

Get 'Em Out

Brandin Cooks - Not only are some people still starting Cooks, you're even bothering to roster him. In CBS leagues he is still rostered in 74 percent of leagues. Wow. Move on folks.
Atlanta Falcons @ San Francisco 49ers
Get 'Em In

Raheem Mostert - Kyle Shanahan was quoted as saying Mostert has given San Fran "no choice" but to use him as the lead back. Mostert had taken over games the last two weeks posting outputs of 22 and 24 points. Even if he does not reach that level, the 13 he posted back in Week 12 should be his floor, making him an excellent Flex play with the hope he goes off for the third straight week.
Get 'Em Out

Matt Ryan - I get Ryan is probably going to need to throw a lot this game, but Ridley is done for the year and Julio is banged up. It's not a great recipe when you're facing the NFC's top seed. Tread carefully.
Buffalo Bills @ Pittsburgh Steelers
Get 'Em In

John Brown - Go read any of the other major fantasy outlets. Any of them. Common theme. BENCH JOHN BROWN. Well, I for one will not stand for that blasphemy. Last week Brown was predictably terrible with two catches, but still saw the volume as eight targets headed his way. He may not be a WR1, but he's a WR3 based on volume, and if he slithers into the endzone you hit the jackpot. Go against the grain kids.

Get 'Em Out

JuJu Smith-Schuster - JuJu appears finally ready for game action. Tough first game back. JuJu has not seen the field since Week 11, and to trust him in a brutal matchup first game back, is too rich for my blood. Pass.
Indianapolis Colts @ New Orleans Saints
Get 'Em In

Drew Brees - I haven't taken the Drew Brees layup all year. Drew Brees. Get 'Em In!
Get 'Em Out

Zach Pascal - I just feel like Pascal has bust written all over him. Even last week against the pathetic Buccaneers it took him awhile to get on the board. Sean Payton is no dummy, and knows Pascal is the Colts best passing option. Lattimore will be with him all day, if not double teamed. You've been warned.
Follow Ryan on Twitter and ask your fantasy questions @BesseBoy.
Follow Boston Sports Syndicate on Twitter @BostonSportsSYN.
Follow us on Facebook and Instagram at Boston Sports Syndicate, and join our Facebook page to receive notification of new articles, podcasts, and live Facebook broadcasts.
Agree with us? Disagree? Please post your comments below.